---
---
Are you ready to make small changes that have HUGE impact in taking you where you want to go in your life?
Below are 21 Days of small changes you can make to improve your life and your way of thinking. Be the main part of your own rescue!
---
---
Each day apply the next step in consecutive order (i.e., Day 1, Day 2, Day 3, etc.) THEN posted before you begin the next day's step Go to  the LSMB Business Solutions Facebook Page  and post the Day of the Challenge you completed. 
---
This is your accountability step so don't skip it…it is a very important part of your growth. Stay committed and get a partner, if needed.
For example: "I just complete Day #5 of the LSMB 21 Day Challenge!"
*CLICK ON THE "LSMB ON FACEBOOK" link to go to the Facebook page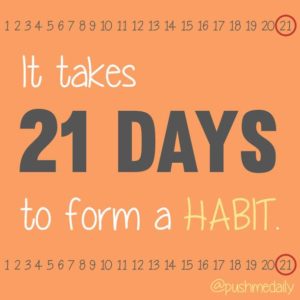 21-Day Challenge
Day 1
Find a Mentor

(score.org has mentors for business owners)

Day 8
Subscribe to Merriam-Webster.com to learn a new word a day

(https://www.merriam-webster.com/word-of-the-day)

Day 15
Do one thing you've been putting off
Day 2
Pick a Book to Read
Day 9
Call someone you haven't called in a while and say "hello."
Day 16
Create a Bucket List
Day 3
Set time 20 minutes earlier
Day 10
Look up a way to volunteer
Day 17
Say one empowering thing to a young person
Day 4
Bless a stranger
Day 11
Learn 3 words in a different language

(https://translate.google.com/)

Day 18
Do one thing that makes you feel uncomfortable, but it makes you grow
Day 5
Take a picture of your Happy
Day 12
Do not use Can't for 24 hours
Day 19
Go out of your way to help 2 people
Day 6
Search the web for a hobby
Day 13
Teach one person something new
Day 20
Drop one bad habit for 24 hours
Day 7
Write a letter to your future self and seal it for one year
Day 14
Arrive 10 minutes earlier
Day 21
Write down 3 things you learned about

yourself

in the past 20 days
This is challenge is totally voluntary. All rights reserved. LSMB does not assume any responsibility or liability for any charges incurred by participants.
Inbox Linda Murray Bullard on Facebook if you have any questions about the 21-Day Challenge.