Now there is FULL BUSINESS SUPPORT designed specifically for small business owners who invest in their success and understand the value of getting there quicker! 
Introducing the LSMB 360 Business Solution!
THIS IS THE ANSWER TO YOUR BUSINESS CHALLENGES
Go ahead and schedule a 45-Min Discovery Call with Linda at http://calendly.com/LSMBBusiness

Here's The Perfect Solution If You Want To Build The Business Of Your Dreams!
GOT BUSINESS CHALLENGES? …WE CAN HELP YOU WITH THAT
SCHEDULE A CALL TODAY TO GET MORE INFORMATION ABOUT OUR GUARANTEED SERVICES, https://calendly.com/LSMBBusiness
---
WE OFFER THE FOLLOWING SERVICES AND PRODUCTS THAT HELP YOU
TOTAL BUSINESS EFFICIENCY AND EFFECTIVENESS ASSESSMENT



PRE-HIRE EMPLOYEE TESTING



STRATEGIC BUSINESS PLANNING



EXECUTIVE LEADERSHIP TRAINING

WORKSHOPS


BUSINESS BOOKS & ONLINE BUSINESS COURSES
KEYNOTES
BUSINESS PLANS
RESUMES
MOCK INTERVIEWS AND JOB READINESS TRAINING
SCHEDULE A CALL WITH LINDA TODAY AT https://calendly.com/LSMBBusiness
Are you interested in having more time to do what you love with the people you love?

 
Having a business that has the right automation, social media presence and use of technology can give you the revenue you need and the time to enjoy life more.

GET THE SUPPORT YOU NEED IN ORDER TO NAVIGATE MAKING POWERFUL BUSINESS DECISIONS
WE ARE HERE TO WALK WITH YOU ON YOUR BUSINESS OWNERSHIP JOURNEY. YOU ARE NOT ALONE.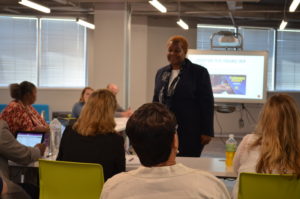 WE UNDERSTAND YOU NEED SUPPORT WHEREVER YOU ARE…SO WE ARE HERE FOR YOU!
Linda Murray Bullard's Credentials
Master Degree in Business Administration with Data Analytics focus from the University of TN at Chattanooga
Bachelor's Degree in Business Administration with emphasis on Organizational Development from Bryan College in Dayton,TN
Associate's Degree in Business Administration from Chattanooga State Community College
Certified Professional Project Manager (PMP) by the Project Management Institute (PMI)
Certified Social Media Marketer by Silicon Valley Digital Institute
Graduate of Leadership Chattanooga and Chattanooga Women's Leadership Institute
International Business/Personal Development Strategist and Mentor
TEDx Presenter of "The Power of Choice" in February 2016   
Award-winning Author of "The Well Ran Dry: Memoirs of a Motherless Child"
Creator and Author of "The Building Your

Own Business Training Series" 
(get both books in the LSMB Bookstore)
---
Join The LSMB Business Solutions Facebook Page to stay abreast of all the business concepts, tips and updates about small business
Click here to join the group: https://www.facebook.com/groups/LSMBSixFigureOwners/
---
Also, get the FREE Business Checklist and do a checkup on your business. Click here:  https://MustPlugIn.com
Go ahead and schedule a call with Linda at http://calendly.com/LSMBBusiness
Testimonials 
"My conversation with Mrs. Bullard was amazing! I left the conversation challenged with more efficient ways to go about my business matters. They call her the business plug for a reason! 5 Stars and 3 thumbs up!
" />
" />
" />
" />
" />
" –Deonte J., Business Owner
"Great conversation with Linda. She really is The Business Plug. She offered 2 suggestions to help me move my new book ENTREPRENEURIAL Elevation forward. Excellent experience."  Cheers"– Dee B., Business Owner
"I finished a powerful 4 hour accountability session with Linda and 3 other participates. It was an amazing session and it was FREE. The session is worth thousands if you ask me. The interactive session is focused on take immediate action in your business with RIGHT NOW accountability. I needed that accountability and I was able to accomplish more in the 4 hours then I had over the past two weeks. I will be signing up for Lind[a]'s other programs immediately to shift my business to the next level." —Marna M., Business Owner
"Linda was very kind and nice with much helpful information that I absolutely had no knowledge of until meeting her. Very thankful for the information she shared with me!"–Lee R., Student at Lower Columbia College
Email: info@LSMBBusinessSolutions.com
Phone: (423) 752-0673
Follow me on Facebook, Twitter, Instagram, LinkedIn, and Pinterest